CR: www.roadandtrack.com
With two months until its debut, get caught up on Lamborghini's upcoming SUV.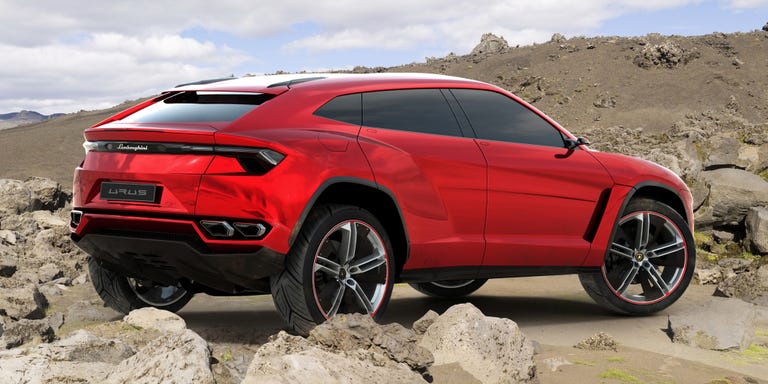 Twenty five years after the outrageous LM002 ended production, Lamborghini is getting back in the SUV game with a new model, the Urus. We haven't seen it in the flesh yet, but we actually know quite a lot about this new SUV. It's just two months away from making its debut, so in the meantime, let's get caught up on what we've already heard.
Pictured above, the 2012 Urus concept.
It Sounds Like This
In a design video featuring Chief Technical Officer Maurizio Reggiani, Lamborghini includes a video clip of the Urus accelerating at what seems to be full throttle from a stop. This is the first time we get to hear that Lamborghini-designed twin-turbo V8 in action.
It Looks Like This
In a video briefly posted to its YouTube page, it appears that Lamborghini itself revealed the Urus before its December 4th debut. A front three-quarter view of the Urus is shown on a screen that lists its driving modes. Lamborghini quickly took the video down, but as Carscoops points out, it was reposted elsewhere in short order.
It Will Offer Rear-Wheel Steering
Lamborghini just released a teaser video of the Urus tearing around in some dunes, and we spotted an interesting detail. For a few frames, you can see its rear wheels steering out of phase with the fronts. So, it'll probably offer rear-wheel steering just like the Huracan and the Aventador, and its SUV platform-mate, the Porsche Cayenne.
It's Set to Be the First Turbocharged Lamborghini
Lamborghini is one of the few automakers that has stuck steadfastly to naturally aspirated engines, but that's set to change with the Urus. Company CEO Stefano Domenicali confirmed earlier this year that the SUV would get a new 4.0-liter twin-turbo V8 making 650 hp. Interestingly, this engine isn't the new 4.0-liter twin-turbo V8 developed by Porsche for use across the VW Group—Lambo's V8 is brand-exclusive.
Lamborghini went for a twin-turbo V8 presumably to improve fuel economy, but also because it better suited the character of an SUV. In 2015, Lamborghini R&D boss Maurizio Reggiani said that a V8 would be light, and provide nice low-end torque.
The Urus might have fewer cylinders than Lamborghini's other cars, but it's not lacking power—it'll have 10 more horsepower than the Huracan Performante and it won't be far off the 691-hp Aventador.
There'll Be a Hybrid Version Too
When Domenicali confirmed that the Urus would receive V8 power, he also mentioned that a plug-in hybrid model was coming too. We don't know too much about this powertrain, but it will utilize the regular Urus' V8, and it's not meant to be a high-performance model. Domenicali said that this is the version to get if you care about fuel economy. The Urus plug-in hybrid should arrive a year after the regular V8 model goes into production.
It'll Be Fast
Well obviously the Urus will be fast. It may be a family car, but it's a 650-hp Lamborghinitoo. How fast? Lamborghini says the Urus will hit at least 187 mph flat-out, and it'll be the quickest SUV at the Nürburgring. Currently, the Alfa Romeo Stelvio Quadrifoglio holds the SUV record at that famous German circuit with a 7:51.7 lap. Lamborghini shouldn't have too much trouble beating the Alfa considering its SUV makes nearly 150 more horsepower.
It'll Share a Platform With Other VW Group SUVs
The Urus might get an all-Lamborghini engine, but under the skin, it's closely related to the new Audi Q7, Bentley Bentayga, and Porsche Cayenne. These platform-mates are surprisingly different, so the Urus won't likely be just a fancied-up Q7.
Starting Price Is Less Than $200,000
When Domenicali confirmed the Urus' twin-turbo V8, he also gave us an idea of US-market pricing. When the Urus arrives at dealers in the third quarter of 2018, it should start at less than $200,000. But of course, this is a luxury car, so options will undoubtedly drive that price way up if you're not careful.
Lamborghini Will Crank Out 3500 Per Year
Domenicali said Lamborghini will build 1000 units of the Urus in 2018, before ramping up to 3500 cars/year in 2019. That's a small number compared to, say, the Audi Q7, but it's big for Lamborghini—the company sold 3500 cars total last year, a record. To build the Urus, Lamborghini is massively expanding its Sant'Agata Bolognese factory.
Considering how hot ultra-luxury SUVs are right now, Lamborghini will sell every single one it builds.
We'll See It For Real Very Soon
Lamborghini will reveal the production-spec Urus on December 4th, five years after the concept pictured made its debut.
---
It might not be our sort of Lamborghini—we like the Huracan RWD and Performante, thanks for asking—but there's no doubt that a lot of people are excited for this car. And if it's even half as wild as the LM002, we could probably learn to love it too.